Kia Optima Hybrid: AVN System / Components and Components Location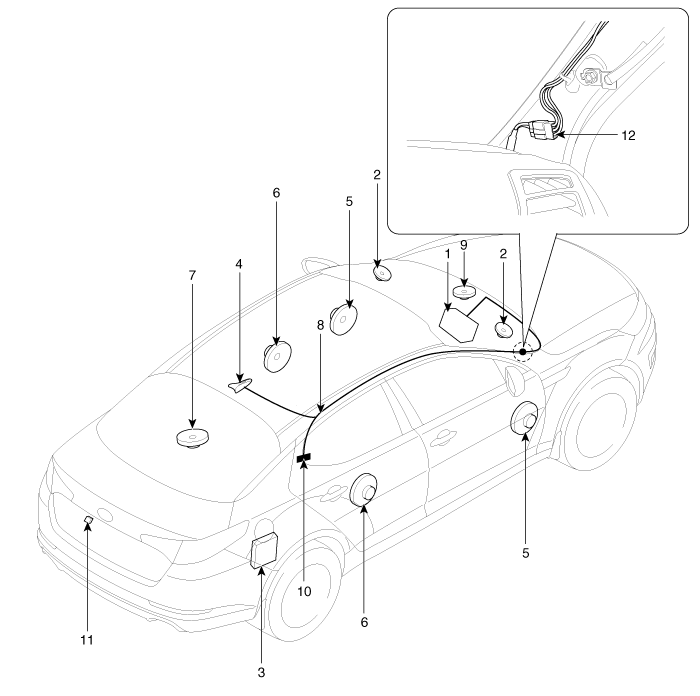 1. AVN (A/V & Navigation head unit)




2. Midrange speaker




3. External amplifier




4. Roof antenna (GPS + SDARS)




5. Front door speaker




6. Rear speaker




7. Woofer speaker




8. Antenna feeder cable




9. Center speaker




10. Glass antenna (Radio)




11. Back view camera




12. Feeder cable joint connector



? SDARS : Satellite Digital Audio Radio Service
Specifications AVN head unit ItemSpecificationPower sourceDC 14.4V (-) groundFrequency range / Channel spaceFM : 87.5 ~ 107.9 MHz / 200 KHzAM : 530 ~ 1710 KHz / 10 KHzTuning typePLL SYNTHESIZED TUNINGImpedance2 ...
Other information:
Special Service Tools Tool(Number and Name)IllustrationUseDeployment tool0957A-34100AAirbag deployment tool.Deployment adapter0957A-3Q100Use with deployment tool.(DAB, CAB, BPT, APT)Deployment adapter0957A-2E110Use with deployment tool.(PAB)Deployment adapter0957A-3F100Use with deployment tool.(SAB)Dummy0957A-38200Simulator ...
Removal • Be sure to read and follow the "General Safety Information and Caution" before doing any work related with the high voltage system. Failure to follow the safety instructions may result in serious electrical injuries. • Be sure to shut off the high voltage circuit according ...
© 2022 Copyright www.koptimatfhev.com