Kia Optima Hybrid: Exhaust Emission Control System / Catalytic Converter Description and Operation
The catalytic converter of the gasoline engine is a three way catalyst. It oxidizes carbon monoxide and hydrocarbons (HC), and separates oxygen from the oxides of nitrogen (NOx).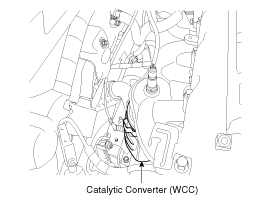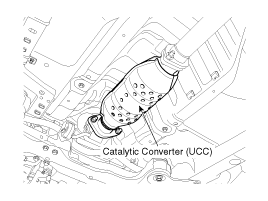 Description Exhaust emissions (CO, HC, NOx) are controlled by a combination of engine modifications and the addition of special control components. Modifications to the combustion chamber, intake manifold, ...
Description Continuous Variable Valve Timing (CVVT) system advances or retards the valve timing of the intake and exhaust valve in accordance with the ECM control signal which is calculated by the engine ...
Other information:
Specifications Fuel Delivery System ItemsSpecificationFuel TankCapacity65 lit. (17.2 U.S.gal., 68.7 U.S.qt., 57.2 Imp.qt.)Fuel FilterTypePaper typeFuel Pressure RegulatorRegulated Fuel Pressure333 ~ 353 kPa (3.4 ~ 3.6 kgf/cm?, 48.3 ~ 51.2 psi)Fuel PumpTypeElectrical, in-tank typeDriven byElectric motor ...
Inspection Throttle Position Sensor (TPS) 1. Connect the GDS on the Data Link Connector (DLC). 2. Start the engine and measure the output voltage of TPS 1 and 2 at C.T. and W.O.T. Throttle AngleOutput Voltage (V)TPS 1TPS 2C.T0.3 ~ 0.94.2 ~ 5.0W.O.T1.5 ~ 3.03.3 ~ 3.8 3. Turn the ignition switch OFF and ...
© 2023 Copyright www.koptimatfhev.com