Kia Optima Hybrid: Blind Spot Detection System / Troubleshooting
Examples of False-Alarm Occurrence from system characteristics (It's not a problem)
| | |
| --- | --- |
| – | Characteristics of EM Wave : EM Waves are reflected against all material and especially metal very well. Reflections of EM Waves are varies with the shape of object. (? EM : Electro Magnetic) |
| | |
| --- | --- |
| – | Radar Sensor : Radar Sensor sense the car by 24GHz echo signal. |
| | |
| --- | --- |
| – | Special enviroment make the ''False-Alarm'' occurrence because of EM waves. |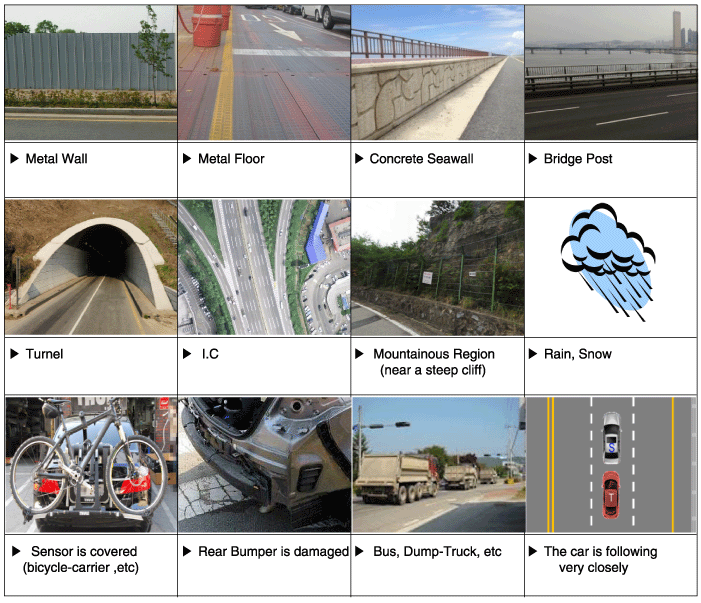 Removal 1. Disconnect the negative (-) battery terminal. 2. Remove the mirror (C) from the mirror holder after disconnecting the heater connector (A) and BSD warning connector (B). 3. Remove the BSD warning ...
Other information:
Description 1. Heater unit includes mode control actuator and temperature control actuator. 2. Temperature control actuator is located at the heater unit. It regulates the temperature by the procedure as follows. Signal from control unit adjusts position of temperature door by operating temperature switch ...
Personal Protective Equipment NameIllustrationDescriptionInsulation gloveUsed when inspecting or working on the high voltage components[Insulation performance : 1000V / 300A or above]Insulation shoesUsed when inspecting or working on the high voltage componentsInsulation clothesInsulation helmetSafety ...
© 2023 Copyright www.koptimatfhev.com