Kia Optima Hybrid: Blind Spot Detection System / Troubleshooting
Examples of False-Alarm Occurrence from system characteristics (It's not a problem)
| | |
| --- | --- |
| – | Characteristics of EM Wave : EM Waves are reflected against all material and especially metal very well. Reflections of EM Waves are varies with the shape of object. (? EM : Electro Magnetic) |
| | |
| --- | --- |
| – | Radar Sensor : Radar Sensor sense the car by 24GHz echo signal. |
| | |
| --- | --- |
| – | Special enviroment make the ''False-Alarm'' occurrence because of EM waves. |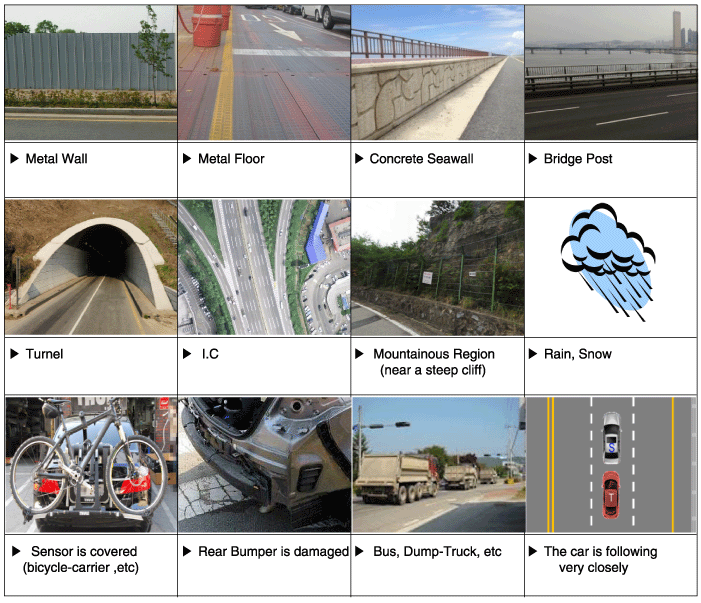 Removal 1. Disconnect the negative (-) battery terminal. 2. Remove the mirror (C) from the mirror holder after disconnecting the heater connector (A) and BSD warning connector (B). 3. Remove the BSD warning ...
Other information:
Components 1. Roof moulding [RH]2. Roof moulding [LH]3. Movable glass4. Cover [RH]5. Wind deflector assembly6. Front cover assembly7. Panoramaroof frame assembly8. Cover [LH]9. Shield cover10. Wind deflector bar link11. Roller blind assembly12. Movable glass motor assembly13. Roller blind motor assembly14. ...
Inspection Throttle Position Sensor (TPS) 1. Connect the GDS on the Data Link Connector (DLC). 2. Start the engine and measure the output voltage of TPS 1 and 2 at C.T. and W.O.T. Throttle AngleOutput Voltage (V)TPS 1TPS 2C.T0.3 ~ 0.94.2 ~ 5.0W.O.T1.5 ~ 3.03.3 ~ 3.8 3. Turn the ignition switch OFF and ...
© 2023 Copyright www.koptimatfhev.com