Kia Optima Hybrid: Automatic Transaxle Control System / Transaxle Oil Temperature Sensor Description and Operation
Transaxle oil temperature sensor monitors the automatic transaxle fluid''s temperature and conveys the readings to TCM. It is an NTC (Negative Thermal Coefficient) sensor whose resistance has an inversely proportional relationship with the temperature level. Data produced by this sensor is used to identify clutch activation and deactivation zones within the low temperature and high temperature range and to compensate hydraulic pressure levels during gear changes.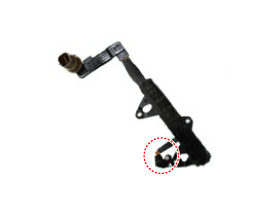 Inspection TCM Problem Inspection Procedure 1. TEST TCM GROUND CIRCUIT: Measure resistance between TCM and chassis ground using the backside of TCM harness connector as TCM side check point. If the problem ...
Specifications Type: Negative Thermal Coefficient Type Temp.(°C)°FResistance (k?)(-40)-4046.8(-20)-4.015.6(0)32.05.88(20)68.02.51(40)104.01.17(60)140.00.59(80)176.00.32(100)212.00.18(120)248.00.11(140)284.00.07(165)329.00.04 ...
Other information:
Specifications AVN head unit ItemSpecificationPower sourceDC 14.4V (-) groundFrequency range / Channel spaceFM : 87.5 ~ 107.9 MHz / 200 KHzAM : 530 ~ 1710 KHz / 10 KHzTuning typePLL SYNTHESIZED TUNINGImpedance2 ohm x 4Antenna80 pF 75 OhmDark currentMAX 3mA (Head unit only)S/NFM : MIN 50 dBAM : MIN 40 ...
Description The ATF warmer is mounted on the valve body cover to reduce oil viscosity friction by increasing oil temperature under cold condition, which in turn improves fuel efficiency. It is serial mounted on the entry of the Electronic Throttle Controller (ETC), as shown in the diagram, and minimizes ...
© 2021 Copyright www.koptimatfhev.com