Kia Optima Hybrid: Engine Control System / Knock Sensor (KS) Description and Operation
Knocking is a phenomenon characterized by undesirable vibration and noise and can cause engine damage. Knock Sensor (KS) is installed on the cylinder block and senses engine knocking.
When knocking occurs, the vibration from the cylinder block is applied as pressure to the piezoelectric element. When a knock occurs, the sensor produces voltage signal. The ECM retards the ignition timing when knocking occurs. If the knocking disappears after retarding the ignition timing, the ECM will advance the ignition timing. This sequential control can improve engine power, torque and fuel economy.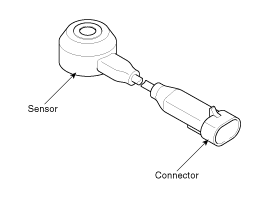 Inspection 1. Check the signal waveform of the CMPS and CKPS using the GDS. Specification: Refer to "Wave Form" Removal • Do not remove the camshaft position sensor while engine is ...
Specification ItemSpecificationCapacitance (pF)850 ~ 1,150 ...
Other information:
Description 1. The ambient temperature sensor is located at the front of the condenser and detects ambient air temperature. It is a negative type thermistor; resistance will increase with lower temperature, and decrease with higher temperatures. 2. The sensor output will be used for discharge temperature ...
Replacement 1. Disconnect the battery negative cable from the battery and then wait for at least 30 seconds. 2. Turn the steering wheel so that the front wheels can face straight ahead. 3. Push the pin (A) and then disconnect the airbag module from the steering wheel. 4. Disconnect the airbag module ...
© 2021 Copyright www.koptimatfhev.com