Kia Optima Hybrid: Engine Control System / Knock Sensor (KS) Description and Operation
Knocking is a phenomenon characterized by undesirable vibration and noise and can cause engine damage. Knock Sensor (KS) is installed on the cylinder block and senses engine knocking.
When knocking occurs, the vibration from the cylinder block is applied as pressure to the piezoelectric element. When a knock occurs, the sensor produces voltage signal. The ECM retards the ignition timing when knocking occurs. If the knocking disappears after retarding the ignition timing, the ECM will advance the ignition timing. This sequential control can improve engine power, torque and fuel economy.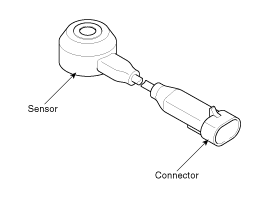 Inspection 1. Check the signal waveform of the CMPS and CKPS using the GDS. Specification: Refer to "Wave Form" Removal • Do not remove the camshaft position sensor while engine is ...
Specification ItemSpecificationCapacitance (pF)850 ~ 1,150 ...
Other information:
Specification Ignition System ItemsSpecificationIgnition coilPrimary resistance0.62 ± 10 % (?)Secondary resistance7.0 ± 15 % (k?)Spark plugsTypeFXU16HR11Gap1.0 ~ 1.1 mm (0.0394 ~ 0.0433 in.) Charging System ItemsSpecificationAuxiliary 12V batteryType54-28GRCold cranking amperage [at -18°C(-0.4°F)]600AReserve ...
Description The oil pump main relay is installed within the HEV fusible link box of the engine room. When the Oil Pump Unit (OPU) triggers the oil pump main relay, electric current needed to operate the Electric Oil Pump (EOP) passes through the Oil Pump Unit (OPU) and is supplied to the Electric Oil ...
© 2021 Copyright www.koptimatfhev.com