Kia Optima Hybrid: Engine Control System / Intake Air Temperature Sensor (IATS) Description and Operation
Intake Air Temperature Sensor (IATS) is included inside Manifold Absolute Pressure Sensor and detects the intake air temperature.
To calculate precise air quantity, correction of the air temperature is needed because air density varies according to the temperature. So the ECM uses not only MAPS signal but also IATS signal. This sensor has a Negative Temperature Coefficient (NTC) Thermister and it''s resistance changes in reverse proportion to the temperature.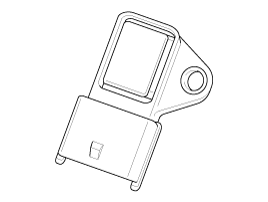 Inspection 1. Connect the GDS on the Data Link Connector (DLC). 2. Measure the output voltage of the MAPS at idle and IG ON. Test ConditionOutput Voltage (V)IG ON3.9 ~ 4.1Idle0.8 ~ 1.6 Removal 1. Turn ...
Specification Temperature [°C(°F)]Resistance (k?)-40(-40)40.93 ~ 48.35-20(-4)13.89 ~ 16.030(32)5.38 ~ 6.0910(50)3.48 ~ 3.9020(68)2.31 ~ 2.5740(104)1.08 ~ 1.2150(122)1.56 ~ 1.7460(140)0.54 ~ 0.6280(176)0.29 ...
Other information:
Description The Steering Angle Sensor (SAS) is installed in MDPS (Motor Driven Power Steering) and it sends messages to HECU through CAN communication line. The SAS is used to determine turning direction and speed of the steering wheel. The HECU uses the signals from the SAS when performing ESC-related ...
Inspection 1. Disconnect the negative(-) battery terminal. 2. Remove the roof trim. (Refer to the BD group - "Roof trim") 3. Remove the handsfree mic (A) after disconnect the connector from loof top. Be careful not to damage the roof trim when removing the hands free mic. Do not reuse the ...
© 2023 Copyright www.koptimatfhev.com