Kia Optima Hybrid: Engine Control System / ETC (Electronic Throttle Control) System Description and Operation
The Electronic Throttle Control (ETC) System consists of a throttle body with an integrated control motor and throttle position sensor (TPS). Instead of the traditional throttle cable, an Accelerator Position Sensor (APS) is used to receive driver input. The ECM uses the APS signal to calculate the target throttle angle; the position of the throttle is then adjusted via ECM control of the ETC motor. The TPS signal is used to provide feedback regarding throttle position to the ECM. Using ETC, precise control over throttle position is possible; the need for external cruise control modules/cables is eliminated.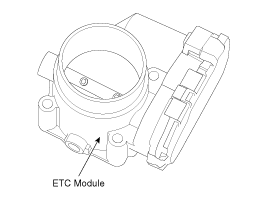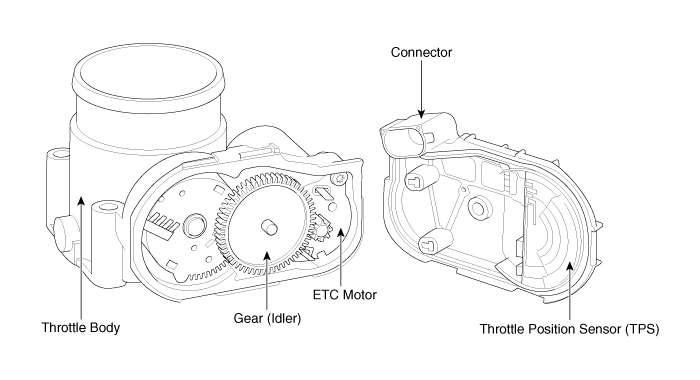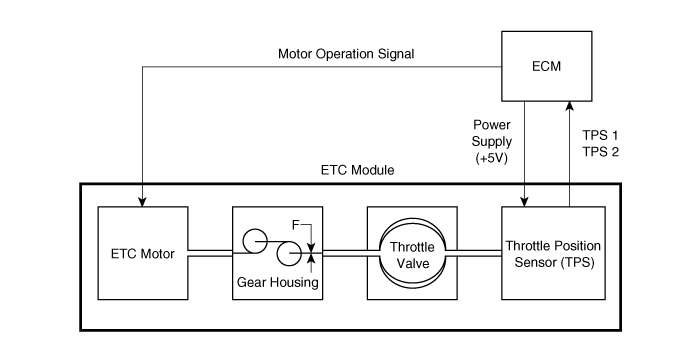 Removal 1. Shut off the High Voltage circuit. (Refer to "High Voltage Shut-off Procedures") 2. Turn the ignition switch OFF and disconnect the auxiliary 12V negative (-) battery terminal. 3. Remove ...
Fail-Safe Mode ItemFail-SafeETC MotorThrottle valve stuck at 5°TPSTPS 1 faultReplace it with TPS 2TPS 2 faultReplace it with TPS 1TPS 1,2 faultThrottle valve stuck at 5°APSAPS 1 faultReplace it with ...
Other information:
Description The Steering Angle Sensor (SAS) is installed in MDPS (Motor Driven Power Steering) and it sends messages to HECU through CAN communication line. The SAS is used to determine turning direction and speed of the steering wheel. The HECU uses the signals from the SAS when performing ESC-related ...
Components Connector Pin Information No.Connector A (24pin)Connector B (20pin)Connector C (24pin)1Battery (+)Head lamp low beam switchRoom lamp2IGN 1Head lamp high beam switchAV tail signal3IGN 2Front fog switchBuzzer (PAS)4ACCSafety power window EnableMirror unfolding relay5Mist switchK-LineRear left ...
© 2021 Copyright www.koptimatfhev.com