Kia Optima Hybrid: Engine Control System / Camshaft Position Sensor (CMPS) Description and Operation
Camshaft Position Sensor (CMPS) is a hall sensor and detects the camshaft position by using a hall element.
It is related with Crankshaft Position Sensor (CKPS) and detects the piston position of each cylinder which the CKPS can''t detect.
The CMPS is installed on engine head cover and uses a target wheel installed on the camshaft. The Cam Position sensor is a hall-effect type sensor. As the target wheel passes the Hall sensor, the magnetic field changes in the sensor. The sensor then switches a signal which creates a square wave.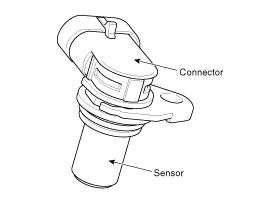 Inspection 1. Check the signal waveform of the CMPS and CKPS using the GDS. Specification: Refer to "Wave Form" Removal 1. Turn the ignition switch OFF and disconnect the battery negative (-) terminal. ...
Other information:
Circuit Diagram (1) Circuit Diagram (2) Circuit Diagram (3) SRSCM Connector Terminal Pin Function (Connector A)Pin Function (Connector B)1PSmart Junction Box (Fuse - A/BAG)1OPassenger Side Impact Sensor (High)2--2LPassenger Side Impact Sensor (Low)3--3GDriver Side Impact Sensor (High)4G/ODriver ...
Warning Lamp Activation Warning Lamp Behavior after Ignition On As soon as the operating voltage is applied to the SRSCM ignition input, the SRSCM activates the warning lamp for a LED lamp check. The lamp shall turn on for 6 seconds during the initialization phase and be turned off afterward. To alert ...
© 2022 Copyright www.koptimatfhev.com