Kia Optima Hybrid: Engine Control System / Camshaft Position Sensor (CMPS) Description and Operation
Camshaft Position Sensor (CMPS) is a hall sensor and detects the camshaft position by using a hall element.
It is related with Crankshaft Position Sensor (CKPS) and detects the piston position of each cylinder which the CKPS can''t detect.
The CMPS is installed on engine head cover and uses a target wheel installed on the camshaft. The Cam Position sensor is a hall-effect type sensor. As the target wheel passes the Hall sensor, the magnetic field changes in the sensor. The sensor then switches a signal which creates a square wave.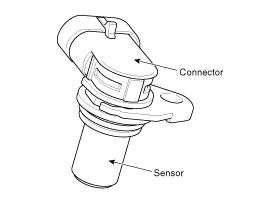 Inspection 1. Check the signal waveform of the CMPS and CKPS using the GDS. Specification: Refer to "Wave Form" Removal 1. Turn the ignition switch OFF and disconnect the battery negative (-) terminal. ...
Other information:
Description When the vehicle is turning with respect to a vertical axis the yaw rate sensor detects the yaw rate electronically by the vibration change of plate fork inside the yaw rate sensor. If yaw velocity reaches the specific velocity after it detects the vehicle''yawing, the ESC control is reactivated. ...
Replacement • Put on gloves to protect your hands. • Use a plastic panel removal tool to remove interior trim pieces to protect from marring the surface. • Take care not to bend or scratch the cover and other parts. 1. After loosening the mounting bolts and clips, then remove the ...
© 2022 Copyright www.koptimatfhev.com