Kia Optima Hybrid: Engine Control System / Camshaft Position Sensor (CMPS) Description and Operation
Camshaft Position Sensor (CMPS) is a hall sensor and detects the camshaft position by using a hall element.
It is related with Crankshaft Position Sensor (CKPS) and detects the piston position of each cylinder which the CKPS can''t detect.
The CMPS is installed on engine head cover and uses a target wheel installed on the camshaft. The Cam Position sensor is a hall-effect type sensor. As the target wheel passes the Hall sensor, the magnetic field changes in the sensor. The sensor then switches a signal which creates a square wave.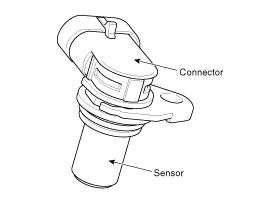 Inspection 1. Check the signal waveform of the CMPS and CKPS using the GDS. Specification: Refer to "Wave Form" Removal 1. Turn the ignition switch OFF and disconnect the battery negative (-) terminal. ...
Other information:
Description Automatic transaxle system relies on various measurement data to determine the current control status and extrapolate the necessary compensation values. These values are used to control the actuators and achieve the desired control output. If a problem with the drivetrain, including the transaxle, ...
Description Knocking is a phenomenon characterized by undesirable vibration and noise and can cause engine damage. Knock Sensor (KS) is installed on the cylinder block and senses engine knocking. When knocking occurs, the vibration from the cylinder block is applied as pressure to the piezoelectric element. ...
© 2021 Copyright www.koptimatfhev.com