Kia Optima Hybrid: Auto Lighting Control System / Auto Light Switch Repair procedures
Lighting Switch Inspection
With the multi function switch in each position, make sure that continuity exists between the terminals below. If continuity is not as specified, replace the multi-function switch.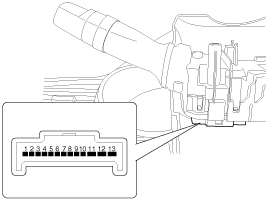 Lighting Switch (Auto Light)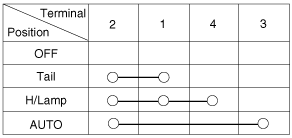 Inspection In the state of IGN1 ON, when multi function switch module detects auto light switch on, tail lamp relay output and head lamp low relay output are controlled according to auto light sensor''s ...
Other information:
Inspection 1. After disconnecting the vapor hose from the PCV valve, remove the PCV valve. 2. Reconnect the PCV valve to the vapor hose. 3. Run the engine at idle, then put a finger over the open end of the PCV valve and make sure that intake manifold vacuum can be felt. The plunger inside ...
Inspection 1. Check the audio remote control switch for resistance between terminals in each switch position. [Trip + Reset] SwitchConnector terminalResistance (±5%)Reset3 - 5 (LH)5.54 k?Trip3 - 5 (LH)2.54 k? [Trip + Mute + Reset] SwitchConnector terminalResistance (±5%)Mute3-40 ?Trip (General option)2-52.55 ...
© 2021 Copyright www.koptimatfhev.com