Kia Optima Hybrid: Engine Control System / Heated Oxygen Sensor (HO2S) Description and Operation
Heated Oxygen Sensor (HO2S) consists of zirconium and alumina and is installed both upstream and downstream of the Catalytic Converter. It varies in accordance with the air/fuel ratio.
The sensor must be hot in order to operate normally. To keep it hot, the sensor has a heater which is controlled by the ECM via a duty cycle signal. When the exhaust gas temperature is lower than the specified value, the heater warms the sensor tip.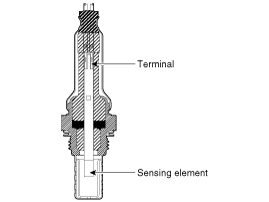 Removal 1. Turn the ignition switch OFF and disconnect the battery negative (-) terminal. 2. Drain the engine coolant (Refer to "Cooling System" in EM group). 3. Remove the radiator upper hose (Refer ...
Specification HO2S [Bank 1/Sensor 1] (Linear type) ItemSpecificationHeater Resistance (?)2.5 ~ 4.0 [20°C(68°F)] HO2S [Bank 1/Sensor 2] (Binary type) A/F Ratio (?)Output Voltage(V)RICHApprox. 0.92LEANApprox. ...
Other information:
Inspection Radiator Cap Testing 1. Remove the radiator cap, wet its seal with engine coolant, and then install it on a pressure tester. 2. Apply a pressure of 93.16 ~ 122.58kPa (0.95 ~ 1.25kgf/cm?, 13.51 ~ 17.78psi). 3. Check for a drop in pressure. 4. If the pressure drops, replace the cap. Radiator ...
Specifications ItemSpecificationFront disc brakeTypeVentilated discDisc O.D.O 300 mm (11.81 in)Disc thickness28 mm (1.10 in)Caliper pistonSingleCylinder I.D.O 60 mm (2.36 in)Rear disc brakeTypeSolid discDisc O.D.O 284 mm (11.18 in)Disc thickness10 mm (0.39 in)Caliper pistonSingleCylinder I.D.O ...
© 2021 Copyright www.koptimatfhev.com