Kia Optima Hybrid: Engine Control System / Crankshaft Position Sensor (CKPS) Description and Operation
Crankshaft Position Sensor (CKPS) detects the crankshaft position and is one of the most important sensors of the engine control system. If there is no CKPS signal input, the engine may stop because of CKPS signal missing. This sensor is installed on the cylinder block or the transaxle housing and generates alternating current by magnetic flux field which is made by the sensor and the target wheel when engine runs.
The target wheel consists of 58 slots and 2 missing slots on 360 degrees CA (Crank Angle).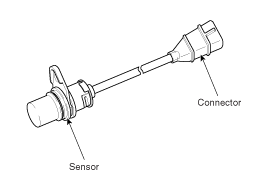 Inspection 1. Turn the ignition switch OFF. 2. Disconnect the ECTS connector. 3. Remove the ECTS. 4. After immersing the thermistor of the sensor into engine coolant, measure resistance between the ECTS ...
Other information:
Specification HO2S [Bank 1/Sensor 1] (Linear type) ItemSpecificationHeater Resistance (?)2.5 ~ 4.0 [20°C(68°F)] HO2S [Bank 1/Sensor 2] (Binary type) A/F Ratio (?)Output Voltage(V)RICHApprox. 0.92LEANApprox. 0.04 ItemSpecificationHeater Resistance (?)3.3 ~ 4.1?[21°C(69.8°F)] ...
Description 1. The ambient temperature sensor is located at the front of the condenser and detects ambient air temperature. It is a negative type thermistor; resistance will increase with lower temperature, and decrease with higher temperatures. 2. The sensor output will be used for discharge temperature ...
© 2022 Copyright www.koptimatfhev.com