Kia Optima Hybrid: Cooling System / Active Air Flap(AAF) Description and Operation
The AAF (Active Air Flap) is located between radiator grille and radiator, and consists of an actuator and 6 air flaps. The system receives information from EMS, FATC, TCU, MCU and LDC via CAN communication . With this information, the AAF controls the motor properly then the air flaps adjust air flow from radiator grille.
During high speed driving, it will reduce the air resistance by closing the air flaps. This improves the fuel efficiency and enhance the driving stability. If overheat occurs, the system will open the air flaps to drop the temperature.
During the A/C operation, the system will open the air flaps to maintain the refrigerant pressure.The system will close the air flaps to warm up the engine rapidly during cold start.
Specifications
| | |
| --- | --- |
| Items | Specifications |
| Operating temperature | -22~185°F (-30~85°C) |
| Operating voltage | DC 9~16V |
| Rated voltage | DC 12V |
| Rated current (No load) | 300mA or less |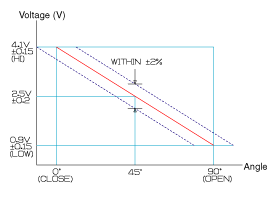 Troubleshooting SymptomsPossible CausesRemedyCoolant leakage • From the thermostat gasket Check the mounting bolts • Check the torque of the mounting bolts • Retighten the bolts and check leakage ...
Components 1. Air duct2. Cover3. Actuator assembly4. Loader5. Flaps6. Link7. Housing ...
Other information:
Inspection In the state of IGN1 ON, when multi function switch module detects auto light switch on, tail lamp relay output and head lamp low relay output are controlled according to auto light sensor''s input. The auto light control doesn''t work if the pin sunlight supply (5V regulated power from Ignition ...
TCM connector and terminal function TCM terminal function Connector [A] PinDescriptionPinDescription2-33ON/OFF solenoid valve A (SS-A)3Line pressure control solenoid valve (LINE_VFS)34Ground (Power 1)4Engine clutch control solenoid valve (EC_VFS)35Ground (Power 2)535R clutch control solenoid valve (35R/C_VFS)36Sports ...
© 2022 Copyright www.koptimatfhev.com