Kia Optima Hybrid: Engine Control System / Manifold Absolute Pressure Sensor (MAPS) Description and Operation
Manifold Absolute Pressure Sensor (MAPS) is a speed-density type sensor and is installed on the surge tank. It senses absolute pressure of the surge tank and transfers the analog signal proportional to the pressure to the ECM. By using this signal, the ECM calculates the intake air quantity and engine speed.
The MAPS consists of a piezo-electric element and a hybrid IC amplifying the element output signal. The element is silicon diaphragm type and adapts pressure sensitive variable resistor effect of semi-conductor. Because 100% vacuum and the manifold pressure apply to both sides of the sensor respectively, this sensor can output analog signal by using the silicon variation proportional to pressure change.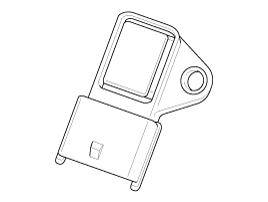 Inspection Throttle Position Sensor (TPS) 1. Connect the GDS on the Data Link Connector (DLC). 2. Start the engine and measure the output voltage of TPS 1 and 2 at C.T. and W.O.T. Throttle AngleOutput ...
Specification Pressure (kPa)Output Voltage (V)20.00.79 46.71.84101.34.0 ...
Other information:
Description The Steering Angle Sensor (SAS) is installed in MDPS (Motor Driven Power Steering) and it sends messages to HECU through CAN communication line. The SAS is used to determine turning direction and speed of the steering wheel. The HECU uses the signals from the SAS when performing ESC-related ...
Specification ItemResistance (?)Driver Airbag (DAB)1.88 ~ 5.8Passenger Airbag (PAB)1.88 ~ 5.8Side Airbag (SAB)1.88 ~ 5.8Curtain Airbag (CAB)1.88 ~ 5.8Seat Belt Pretensioner (BPT)1.88 ~ 5.8Anchor Pretensioner (APT)1.88 ~ 5.8 Tightening Torques ItemN.mkgf.mlb-ftPassenger Airbag (PAB)8.0 ~ 12.00.8 ~ 1.25.8 ...
© 2022 Copyright www.koptimatfhev.com