Kia Optima Hybrid: Engine Control System / Injector Description and Operation
Based on information from various sensors, the ECM can calculate the fuel amount to be injected. The fuel injector is a solenoid-operated valve and the fuel injection amount is controlled by length of injection time. The ECM controls each injector by grounding the control circuit. When the ECM energizes the injector by grounding the control circuit, the circuit voltage should be low (theoretically 0V) and the fuel is injected. When the ECM de-energizes the injector by opening control circuit, the fuel injector is closed and circuit voltage should momentarily peak.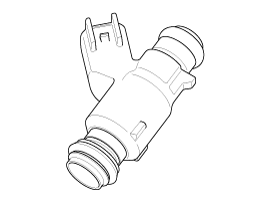 Inspection 1. Connect the GDS on the Data Link Connector (DLC). 2. Measure the output voltage of the FTPS. Pressure [kPa (kgf/cm?, in H2O)Output Voltage (V)-6.67 (-0.068, -26.8)0.502.5+6.67 (0.068, 26.8)4.5 ...
Specification ItemSpecificationCoil Resistance (?)13.8 ~ 15.2 [20°C(68°F)] ...
Other information:
Replacement 1. Disconnect the battery negative cable from the battery and then wait for at least 30 seconds. 2. Turn the steering wheel so that the front wheels can face straight ahead. 3. Push the pin (A) and then disconnect the airbag module from the steering wheel. 4. Disconnect the airbag module ...
Description The ATF warmer is mounted on the valve body cover to reduce oil viscosity friction by increasing oil temperature under cold condition, which in turn improves fuel efficiency. It is serial mounted on the entry of the Electronic Throttle Controller (ETC), as shown in the diagram, and minimizes ...
© 2023 Copyright www.koptimatfhev.com