Kia Optima Hybrid: Engine Control System / Engine Coolant Temperature Sensor (ECTS) Description and Operation
Engine Coolant Temperature Sensor (ECTS) is located in the engine coolant passage of the cylinder head for detecting the engine coolant temperature. The ECTS uses a thermistor whose resistance changes with the temperature.
The electrical resistance of the ECTS decreases as the temperature increases, and increases as the temperature decreases. The reference +5V is supplied to the ECTS via a resistor in the ECM. That is, the resistor in the ECM and the thermistor in the ECTS are connected in series. When the resistance value of the thermistor in the ECTS changes according to the engine coolant temperature, the output voltage also changes.
During cold engine operation, the ECM increases the fuel injection duration and controls the ignition timing using the information of engine coolant temperature to avoid engine stalling and improve drivability.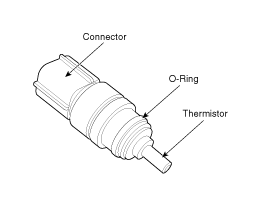 Inspection 1. Turn the ignition switch OFF. 2. Disconnect the IATS connector. 3. Measure resistance between the IATS terminals 3 and 4. 4. Check that the resistance is within the specification. Temperature ...
Specification TemperatureResistance (k?)°C°F-40-4048.14-20-414.13 ~ 16.830325.7920682.31 ~ 2.59401041.15601400.59801760.32 ...
Other information:
Description The used radar frequency of BSD is two, "North America region" and "Except North America region". If it replaces BSD unit, BSD unit has to perform the procedure of variant coding. BSD Variant Coding 1. Select the "BSD Variant Coding" procedure in BSD system. 2. Perform the "BSD Variant Coding" ...
Specification Ignition System ItemsSpecificationIgnition coilPrimary resistance0.62 ± 10 % (?)Secondary resistance7.0 ± 15 % (k?)Spark plugsTypeFXU16HR11Gap1.0 ~ 1.1 mm (0.0394 ~ 0.0433 in.) Charging System ItemsSpecificationAuxiliary 12V batteryType54-28GRCold cranking amperage [at -18°C(-0.4°F)]600AReserve ...
© 2021 Copyright www.koptimatfhev.com