Kia Optima Hybrid: Automatic Transaxle System / Automatic Transaxle Description and Operation
Automatic Transaxle's Role
Both the engine clutch and the motor are mounted within the automatic transaxle assembly. The engine clutch is used to link the engine with the transaxle. The motor is used to turn the input of the transaxle or can be used as a generator. When used as a generator, the motor can be used for regenerative braking. Whether engine, motor or both, the driving torque goes through the automatic transaxle to the wheels.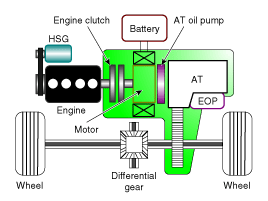 Components 1. Motor assembly2. Electric oil pump (EOP)3. Automatic transaxle case4. Rear cover5. Valve body cover6. Manual control lever7. Air breather hose8. Inhibitor switch9. Solenoid valve connector10. ...
Other information:
Components Connector Pin Information No.DescriptionNo.Description1-21Immobilizer input2Heated wheel indicator input22Fuel sendor (+) input3Aig bag (+) input23Trip switch 2 (+) input(Trip button)4Speed output (-) (4P outpput)24Rheostat switch up input5Oil pressure switch input (-)25Rheostat switch down ...
Replacement 1. Disconnect the damper (B) from the glove box (A).Remove the glove box lift (C). 2. Remove the filter cover with pushing the knob. 3. Replace the air filter (B), install it after making sure of the direction of air filter. In case of driving in an air-polluted area or rugged ...
© 2022 Copyright www.koptimatfhev.com