Kia Optima Hybrid: Automatic Transaxle System / Automatic Transaxle Description and Operation
Automatic Transaxle's Role
Both the engine clutch and the motor are mounted within the automatic transaxle assembly. The engine clutch is used to link the engine with the transaxle. The motor is used to turn the input of the transaxle or can be used as a generator. When used as a generator, the motor can be used for regenerative braking. Whether engine, motor or both, the driving torque goes through the automatic transaxle to the wheels.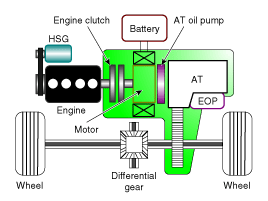 Components 1. Motor assembly2. Electric oil pump (EOP)3. Automatic transaxle case4. Rear cover5. Valve body cover6. Manual control lever7. Air breather hose8. Inhibitor switch9. Solenoid valve connector10. ...
Other information:
Components AVN (A/V & Navigation) Head Unit Connector Connecotr Pin Information No.Connector A (18pin)Connector B (24pin)Connector C (24pin)1-MM CAN highC CAN (-)2--C CAN (+)3---4-Steering remote control-5SPDIF ground--6SPDIF (+)MTS key-7-AUX video-8Illumination (+)AUX right input-9ReverseAUX ground-10-MIC ...
TCM connector and terminal function TCM terminal function Connector [A] PinDescriptionPinDescription2-33ON/OFF solenoid valve A (SS-A)3Line pressure control solenoid valve (LINE_VFS)34Ground (Power 1)4Engine clutch control solenoid valve (EC_VFS)35Ground (Power 2)535R clutch control solenoid valve (35R/C_VFS)36Sports ...
© 2023 Copyright www.koptimatfhev.com