Kia Optima Hybrid: Automatic Transaxle System / Automatic Transaxle Description and Operation
Automatic Transaxle's Role
Both the engine clutch and the motor are mounted within the automatic transaxle assembly. The engine clutch is used to link the engine with the transaxle. The motor is used to turn the input of the transaxle or can be used as a generator. When used as a generator, the motor can be used for regenerative braking. Whether engine, motor or both, the driving torque goes through the automatic transaxle to the wheels.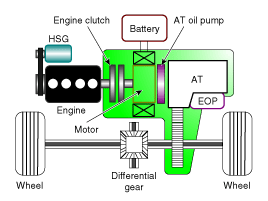 Components 1. Motor assembly2. Electric oil pump (EOP)3. Automatic transaxle case4. Rear cover5. Valve body cover6. Manual control lever7. Air breather hose8. Inhibitor switch9. Solenoid valve connector10. ...
Other information:
Components 1. Roof moulding [RH]2. Roof moulding [LH]3. Movable glass4. Cover [RH]5. Wind deflector assembly6. Front cover assembly7. Panoramaroof frame assembly8. Cover [LH]9. Shield cover10. Wind deflector bar link11. Roller blind assembly12. Movable glass motor assembly13. Roller blind motor assembly14. ...
Specification Ignition System ItemsSpecificationIgnition coilPrimary resistance0.62 ± 10 % (?)Secondary resistance7.0 ± 15 % (k?)Spark plugsTypeFXU16HR11Gap1.0 ~ 1.1 mm (0.0394 ~ 0.0433 in.) Charging System ItemsSpecificationAuxiliary 12V batteryType54-28GRCold cranking amperage [at -18°C(-0.4°F)]600AReserve ...
© 2022 Copyright www.koptimatfhev.com