Kia Optima Hybrid: Automatic Transaxle System / Automatic Transaxle Description and Operation
Automatic Transaxle's Role
Both the engine clutch and the motor are mounted within the automatic transaxle assembly. The engine clutch is used to link the engine with the transaxle. The motor is used to turn the input of the transaxle or can be used as a generator. When used as a generator, the motor can be used for regenerative braking. Whether engine, motor or both, the driving torque goes through the automatic transaxle to the wheels.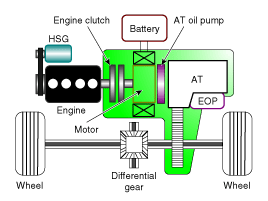 Components 1. Motor assembly2. Electric oil pump (EOP)3. Automatic transaxle case4. Rear cover5. Valve body cover6. Manual control lever7. Air breather hose8. Inhibitor switch9. Solenoid valve connector10. ...
Other information:
Description Continuous Variable Valve Timing (CVVT) system advances or retards the valve timing of the intake and exhaust valve in accordance with the ECM control signal which is calculated by the engine speed and load. By controlling CVVT, the valve over-lap or under-lap occurs, which makes better fuel ...
Component (1) Connector Pin Information No.Connector A (26pin)Connector B (16pin)Connector C (22pin)1V_BAT loadC_CAN lowSSB illumination ground2-C_CAN highImmobilzer indicator3Power ground1--4IGN1Stop lamp fuseInterior antenna #2 power5IGN1 relayBrake switchInterior antenna #1 power6ACCImmobilizer antenna ...
© 2021 Copyright www.koptimatfhev.com