Kia Optima Hybrid: Automatic Transaxle System / Automatic Transaxle Description and Operation
Automatic Transaxle's Role
Both the engine clutch and the motor are mounted within the automatic transaxle assembly. The engine clutch is used to link the engine with the transaxle. The motor is used to turn the input of the transaxle or can be used as a generator. When used as a generator, the motor can be used for regenerative braking. Whether engine, motor or both, the driving torque goes through the automatic transaxle to the wheels.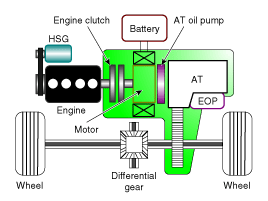 Components 1. Motor assembly2. Electric oil pump (EOP)3. Automatic transaxle case4. Rear cover5. Valve body cover6. Manual control lever7. Air breather hose8. Inhibitor switch9. Solenoid valve connector10. ...
Other information:
Removal 1. Remove the cylinder head cover. 2. Set No.1 cylinder to TDC/compression. a. Turn the crankshaft pulley and align its groove with the timing mark "T" of the lower timing chain cover. b. Check that the mark(A) of the CVVT sprockets are in straight line on the cylinder head surface as shown in ...
Inspection 1. Connect the GDS on the Data Link Connector (DLC). 2. Turn the ignition switch ON. 3. Measure the output voltage of the APS 1 and 2 at C.T and W.O.T. AcceleratorPositionOutput Voltage (V)APS1APS2C.T0.7 ~ 0.80.29 ~ 0.46W.O.T3.85 ~ 4.351.93 ~ 2.18 ...
© 2021 Copyright www.koptimatfhev.com